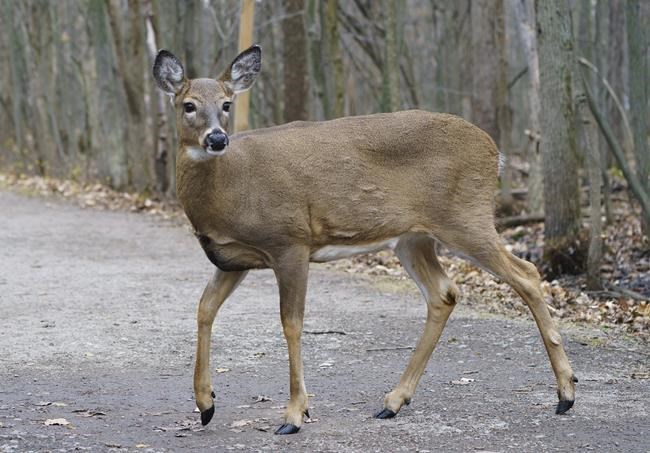 Animal welfare advocates ask court to stop white-tailed deer culling south of Montreal
MONTREAL — A Quebec lawyer will ask the Superior Court next month to block a cull of white-tailed deer living in a suburban park south of Montreal and approve an alternative plan to relocate them.
Anne-France Goldwater, a lawyer and animal rights activist who has previously voiced her opposition to the city of Longueuil's plan to capture and kill the animals, said Wednesday she had filed a lawsuit on her behalf, the wildlife rescue organization Sauvetage Animal Rescue and a local animal rights activist.
Goldwater is asking the court to stop Quebec's wildlife department and the city from killing the deer—calling it "unnecessary and cruel slaughter"—until the case is heard on the merits.
She also wants the court to approve a plan to allow volunteers from rescue organizations to trap deer, sterilize them and ultimately move those who are fit to travel to wildlife sanctuaries or to municipalities that have offered land where deer can be moved.
Goldwater said the offer also includes free aftercare of the deer for up to 10 years. The relocation would be paid for through donations and fundraisers at no cost to taxpayers, Goldwater said.
"No plan is perfect, and a deer in the wild always lives with the risk of being nibbled by a predator," she said in an interview. "But they would have a fighting chance to be alive."
Last November, Longueuil Mayor Catherine Fournier said the city would kill all but 15 of the approximately 70 deer that live there in order to protect Michel Chartrand Park. A committee set up to suggest ways to protect the park found that the current population was more than five times the number of animals it could support.
The committee's report concluded that the natural areas of the park were "so degraded that they could no longer regenerate" due to factors such as emerald ash borer infestations, invasive plant species, visitors not respecting the park rules and the large number of deer stripping the vegetation.
He considered relocation or neutering or birth control, but concluded that the only viable short-term solution was to cull all but the minimum 10 to 15 animals. Last year, a spokesperson for the city said the felling would likely take place in the fall.
Longueuil's previous administration had planned to cull the deer in the fall of 2020, but the city relented after a strong backlash that included a petition, protest and threats against the former mayor. At that time, the park's deer population was estimated at around 30.
Goldwater says the case is due before a judge in Longueuil on June 15.
This report from The Canadian Press was first published on May 18, 2022.
Sidhartha Banerjee, The Canadian Press